At Greenergy4you we are on a mission to work with you to switch to LED. Reap both significant financial savings in running your lighting and also slash your CO2 footprint in the process.
We understand that each of you have your own lighting requirements, budgets and qualities. As a result, our service is tailored to ensure you get what you want right first time!
Why go LED?
Return On Investment is usually less than 1 year
Better Rated Energy Performance Certificate (EPC)
Significant reduction in lighting energy use and cost (of upto 90%)
You will increase your business value due to the reduced operational costs
Slash your CO2 footprint
Products can last up to 20x longer, saving time (sourcing replacements and fitting time) and cost (buying new lighting)
Less likely to cause headaches as no strobbing of light, unlike some current products
No radiation like CFL and fluorescent can show health benefits
Why Greenergy4you?
We work directly with manufacturers to ensure quality and the competitive prices
Get the most current and efficient technology
A fantastic service where you can submit pictures to ensure the products suitable are in keeping with your business presentation and look
We have created the unique Greenergy4you Grading system to tailor to all budgets and qualities
Give you an accurate savings calculation based on the information you submit on the enquiry form
A UK based business
Cut the middle man
GET IT RIGHT FIRST TIME
Simply input what you're looking for on the enquiry and we will do all the background work to tailor to your requirements.
Greenergy4you Unique Quality Grading System
To tailor to every budget and quality we have created the Greenergy4you Quality grading.
Ranges currently from A – C (A being the best). What does an A Grade Greenergy4you product look like?
Highest quality of materials
Longest warranty
Best technology inside the bulbs
Lowest degradation of light over time
Best quality of light and brightness
Best efficiency
Yes they do come at a cost, however they will not only save money over the long run but be in keeping with your look and also assures premium technology.
With no middle man you can rest assure the best price on the market with Greenergy4you!
NOTE: for businesses we only recommend A or B grade
Greenergy4you Process
Turnaround of a project is approximately 20 days. Guaranty you'll be pleased with the overall results. Get it right first time with Greenergy4you and well ensure the'll be in keeping with your unique look!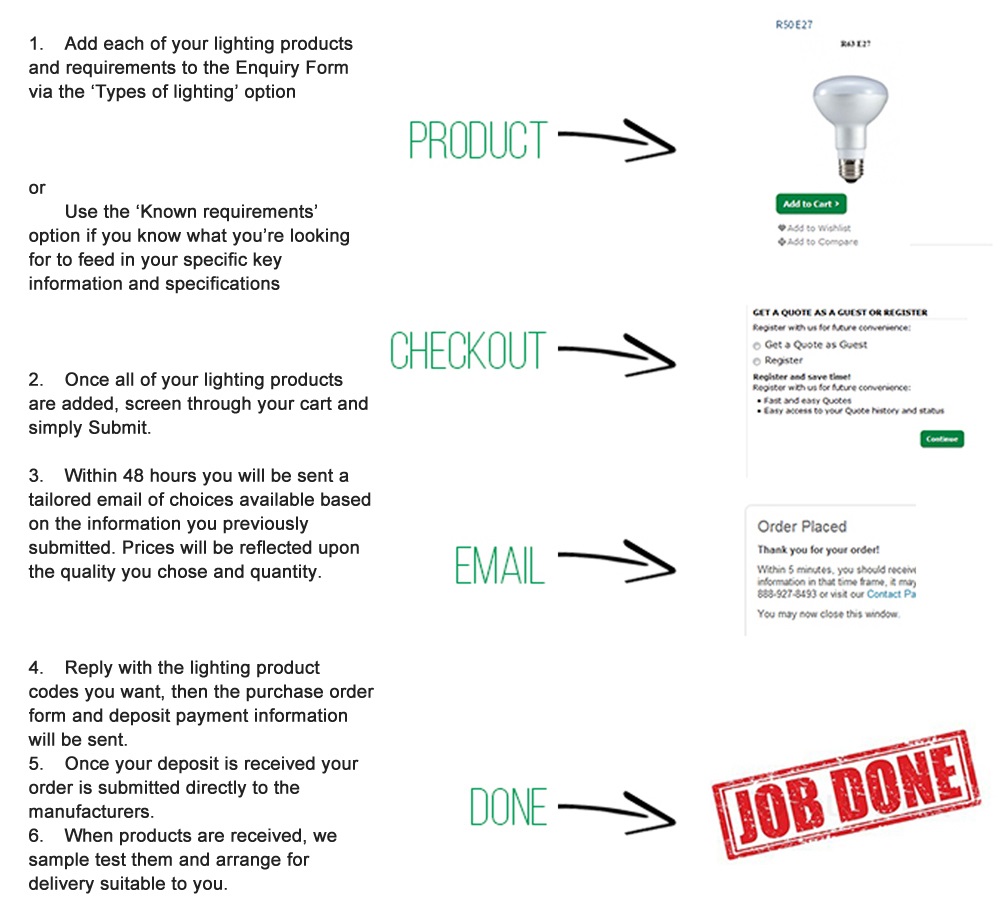 We will keep you in the up-to date at each of the stages to get your new LEDs.

Rewarding New Custom (Domestic)
At Greenergy4you, we appreciate new clients that you bring to our family. As a gesture of appreciation of completed orders from your leads…We would like to gift you with a percentage cash back depending on their order value. Please ask for more information via emailing info@greenergy4you.com.
Thank You
Advertising Package for Businesses
For Greenergy4you it is not just about sales, but to create a successful network with other businesses (ask when you enquire)
You could simply display some materials and benefit from a further reduction in cost (find out more when you enquire)
By recommending Greenergy4you, successful orders placed by other businesses will be rewarded as our gesture of appreciation.
Your staff can also benefit from our great prices for our LED lighting (if they can prove they work for you)
If you are already LED compliant but would like to be a Greenergy4you brand ambassador, please call 0800 246 1 247 or email director@greenergy4you.com